10 Super Cute Coffee Enamel Pins to Wear or Display for Coffee Lovers
If you're here, you're likely a coffee lover looking for a way to express your love of coffee through a coffee enamel pin. 
We like these pins because they're painted using enamel paint, which gives these accessories a nice glossy finish. These pins not only serve as an accessory other than jewelry to add variation to any outfit, they're also really versatile. You can use several of them as decor to display together or to spruce up a bag. Plus, they work great as gifts for your coffee loving friends.   
Whether you're looking for a pin to accessorize your outfits, to put on your travel backpack or everyday tote bag, or to give as a gift, consider one of these 10 super cute coffee enamel pins.
1. Coffee Beans Pins
Forget the fancy cups and methods of making coffee. Get back to the basics with a coffee bean pin that has detailed indent marks making it look like a real coffee bean. This pack of four coffee bean pins includes four different shades, including silver, gold, and a copper and a brass looking pin. Wear them altogether or just one at a time. They are the smallest on this list at .2 inches tall and .4 inches wide.  
2. I Need My Space Coffee Enamel Lapel Pin
"I need my space" enamel pin
for everyone who feels like they need their alone time with a warm cup of coffee. 

3. Coffee and Book Enamel Pin
4. My Blood Type is Coffee Enamel Pin
An exact enamel pin for those who bleed coffee...
5. French Press Enamel Pin Pack for Coffee Lovers
The ultimate enamel coffee pin pack for coffee lovers. True coffee connoisseurs will recognize and appreciate these pins featuring five different coffee makers. There's a French press, Chemex, AeroPress, pour over drip filter and even a gooseneck kettle. Wear or display them all together, select your favorite one, or choose the one that resembles the method you used that morning for your morning cup of coffee. The pins range from 1.3 to 2.1 centimeters tall and just 1 to 2.5 centimeters wide, with each weighing less than 3 grams.
6. Pinky Coffee and Books Enamel Pin
This custom pin is processed with hard enamel & gold finish. Many bookstores offer coffee sales services now. Read a favorite book, have a cup of yummy coffee, you can even stay in the coffee bookstore for a whole day.
Actually, custom enamel pins can be used as an advertising tool in addition to being fixed on clothes and backpacks. For example, a bookstore with a prosperous business can order such custom enamel pins for its customers.
Of course, the best lapel pins can also be used as a special gift for your outstanding clerks. You can engrave the name of the store or employee on the pin, making it a unique gift. Make your own enamel pins is memorable.
7. Super Cute Catpuccino Cat Coffee Enamel Pin
Would you like a cup of cute kitty today? 
Price: $4 at pins4ever.com
8. Coffee for Life Black Enamel Pin Set, 3 pins
9. Death before Decaf Cute Blue Skull Enamel Pin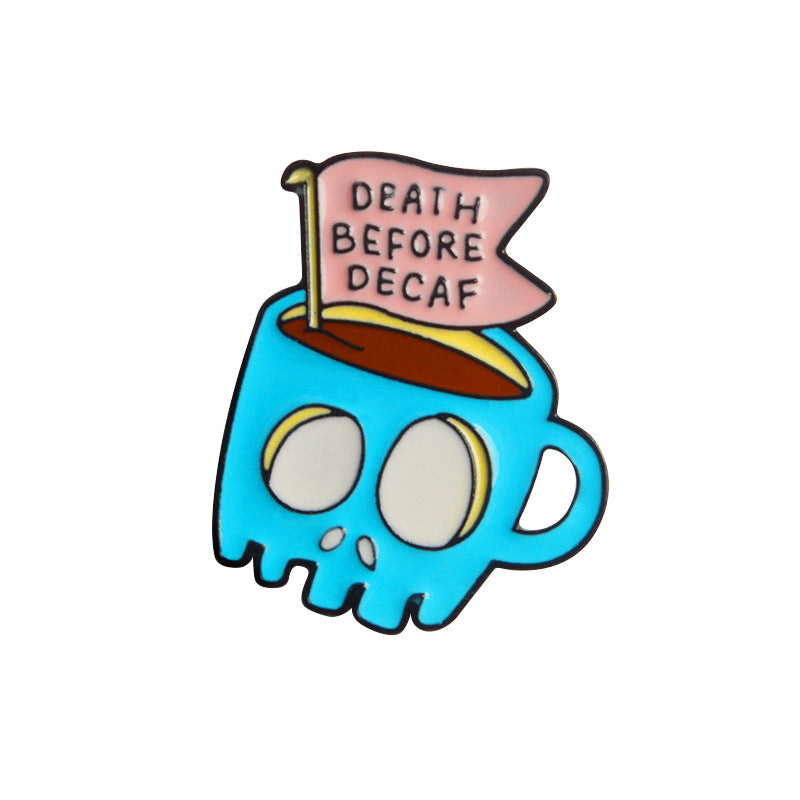 Why does decaf coffee even exist? Yeah, we don't know either. Probably just to make us mad. Coffee without caffeine is less delicious, less intriguing, less stimulating and WAY less magical. If you're a cafe connoisseur who won't touch decaf, even at midnight, the Death Before Decaf cartoon style pin is an essential part of your persona. Update your clothing, backpack or beanie with this adorable, wearable ode to caffeine. Oh you made fresh decaf? Don't. Even. Come. At. Me. With. That. Stuff.
10. Make Coffee Not War Enamel Pin